We are Leading UHF RFID Readers wholesale supplier, distributor & Manufacturer in Delhi India.
Why Choose IDentium UHF RFID Readers?
Impinj R2000 Chipset offers High performance & Stability
33 dBm Industry Leading Output Power
Inbuilt Memory, Relay & Custom Command Functions
Experienced Industry Professionals, to suggest the appropriate Reader
Easy Integration with Existing Systems – Provide Demo app with Source code, Integration support, SDK
Industry Grade Performance for 365 x 24 x7 Operatio
Impinj's Speedway R420 fixed RFID readers and antennas are High Performance Fixed Reader
IDTS – 401F 4 Port Reader is an Intelligent High Performance Uhf Fixed Reader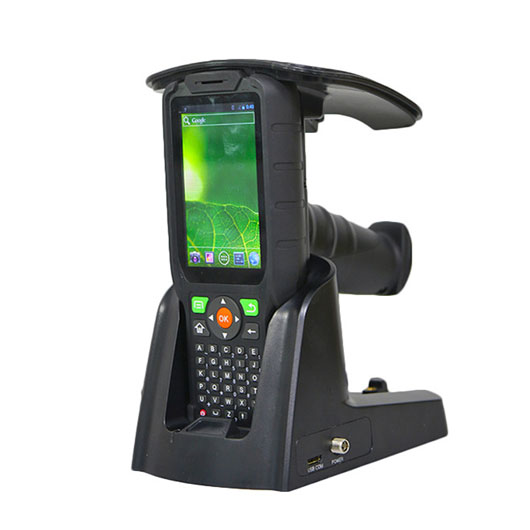 Identium RFID UHF Audio Jack Reader connect with IOS, Android, & intelligent systems platforms
UHF RFID Integrated Desktop Reader
IDentium UHF RFID Integrated Desktop Reader for Library / Workstation. It is specially and precisely designed for multiple tag reading and writing that can hold limited area of coverage.
CX2000 is a High End RFID Reader with Industry leading reading range upto 25m
It is rated IP65 Water proof for all weather applications
It has a Huge 9000 mAH Battery for long lasting usage
It has an Inbuilt RAM of 4G with 64 GB of Internal memory for High performance usage
Optional Accessories: Charging Cradle, Hot swap Battery
CX1000 is a Entry Level UHF RFID Handheld Reader with a rugged design and has a reading range upto 3m
It has a 5.5 inch IPS Display with Gorilla Glass Protection
It also supports 1D/2D Scanner, NFC as optional add on modules
RFID UHF Bluetooth Readers
Identium Handheld Reader UHA800 is a high performance UHF RFID Portable Reader, one of the best RFID Portable Readers in India. The Reader competes with the zebra RFD8500 Reader at a Fraction of the price performing similarly
MUBR01 is a compact UHF RFID Bluetooth Reader.
It has a reading range of upto 3m and can read multiple tags(upto 20) at any give point of time.
It comes with a silicone case to sustain in rugged environment
Identium ID – UBR12 reader is a super small UHF RFID reader.
It supports Bluetooth Interface and can be paired to a mobile Phone for Data transfer and control
It comes with Built in display and has a storage of upto 100 tags inside its memory
Fill out this form and our team will get back to you