IDentium ID- UBR12 UHF BLE Micro Reader
Identium ID – UBR12 reader is a super small UHF RFID read
Beautiful appearance, compact size, easy to take and with 0.95` true color, OLED scree.
It can display the number of the tag, the operation interface for
intuitive. It can store the tag data offline, upload tag data via Bluetooth.
The reader can support the market is for the occasions which need of portable, low cost, mobile data acquisition such as Anti-fake
Product Details
Identium RFID UHF Audio Jack Reader
Features:
● Display: 0.95` true color, OLED screen
● Working frequency: 840~930MHz
(According to the demands, FHSS)
● Protocol: EPC C1 GEN2/ ISO 18000-6C
● Bluetooth: 3.0 EDR+4.0 BLE dual mode
●It can achieve 100meters over the remote communication under the open
environment and BLE equipment
● Storage: Store 100tag data offline, upload via bluetooth
● USB: Micro USB, the virtual U disk device, store upgrade file
● Firmware upgrade:Firmware upgrade offline via update and upgrade file
● Working voltage: Lithium 3.7V/780mAh, charge by general micro USB cable
● Working time: Work more than 3hours for
continuous reading tag
● Operating temperature: 0°C~55°C
● Storage temperature: -10°C~70°C
● Outline size: 88mm*39mm*16mm
● Keys: 4functional keys
● Voice: Speaker
● Distance of read and write tags: Alien
9662 tag read distance is about 10~15cm
● Provide Bluetooth API and demo program  
Identium RFID UHF Audio Jack Reader connect with IOS, Android, WP and intelligent systems platforms
Identium Handheld Reader UHA800 ​is a high performance UHF RFID Portable Reader, one of the best RFID Portable Readers in India.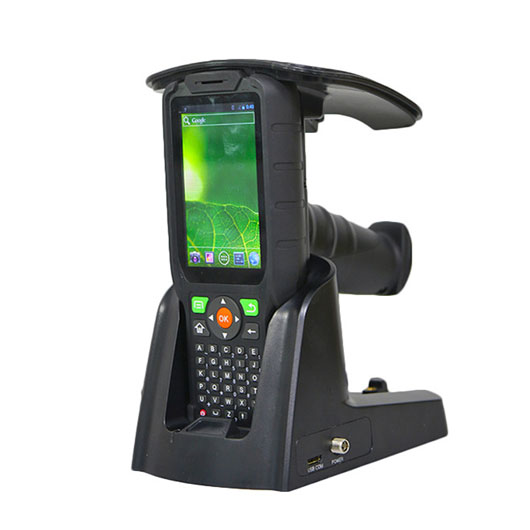 RFID UHF Android Long Range Handheld Reader IDTS – UHA2000. Impinj R2000 Chipset, Reading range upto 18m
IDentium UHF RFID Handheld Reader IDTS – UHA947 comes with Supports Background UHF Service